Thyroid Nodule Radiofrequency Ablation (RFA)

Thyroid radiofrequency ablation (RFA) is a non-surgical procedure that uses a special probe to heat up the nodule under the visualization of ultrasound. Ultrasound guided RFA is a good alternative to surgery for many health conditions like thyroid nodules, liver cancer, pain management, and other malignancies.
Using ultrasound-guidance the small RFA probe is placed into the targeted region. The heating mechanism is turned on and the treatment is monitored using ultrasound imaging to make sure the expected tissues are successfully treated. In the experienced hands of our specialist, this technique can administer heat to the target tissues causing tumor death and size reduction with little to no risk of damaging the surrounding tissues.
Advantages of Thyroid RFA
What is a Thyroid Nodule? 
Thyroid nodules are abnormal growths or lumps that originate in the thyroid gland. They can be classified according to the content inside the lump into solid, predominantly solid, cystic (filled with fluid), and, predominantly cystic.
This condition is fairly common. Up to 5 to 10% of the population in the US may develop a palpable nodule in their lifetime. Additionally, thanks to the use of high-resolution ultrasounds, it has been found that 19 to 68% of randomly selected individuals have thyroid nodules.1
Most thyroid nodules are benign and asymptomatic (only 7 to 15% are malignant).1 However, they may cause symptoms like difficulty swallowing, pain, and/or tenderness. Additionally, depending on their size, they can become a cosmetic concern.
Indications for Thyroid Nodule RFA
Radiofrequency ablation (RFA) can be applied in patients with a benign thyroid nodule (proven by a biopsy) that cause symptoms or have become a cosmetic issue due to their size.2 This is ideal for someone with a large thyroid nodule who does not want to have surgery.
Symptoms associated with thyroid nodules may include:
Difficulty swallowing
Pain
Tenderness
Persistent cough
Foreign body sensation in the neck
Radiofrequency ablation has also been used to treat nodules that are actively functioning (Autonomously Functioning Thyroid Nodules). Read more here.
The management of recurrent thyroid cancer is another viable indication for radiofrequency ablation (RFA). Additionally, RFA is proving to be a good alternative to surgery in patients with primary thyroid cancer that either refuses surgery or are not able to tolerate it.2 Read more here.
Thousands treated
Worldwide
Successfully
Safely
Thyroid RFA: The Procedure
Thyroid radiofrequency ablation is an outpatient procedure that is performed in the office. It takes approximately 1 hour to perform under local anesthesia. Patient go home with just a Band-Aid.
During the procedure, our doctor will use ultrasound to guide a probe into the thyroid nodule. Using alternating current, the tip of the probe will generate heat that will cause selective burning of the nodule tissue. This is done throughout the nodule while visualizing the process on ultrasound. Having excellent 3D visualization and ultrasound skills is imperative to good results. Eventually, the cauterized tissue will be degraded by the body, achieving size reduction and symptom relief. 
Due to its minimally invasive and percutaneous approach, RFA leaves no significant scar. In fact, our specialist does not make an incision of any kind and there are no sutures.
In expert hands, RFA is highly effective to reduce nodule size for solid and predominantly solid nodules (77 to 80% of volume reduction rate after 5 years follow-up).3 For cystic and predominantly cystic nodules our specialist will aspirate or remove the fluid first then perform RFA ablation.  RFA is also effective at symptom relief and offers a good cosmetic result as well.2
For patients with overactive thyroid nodules (AFTN), RFA has a 53 to 83% volume reduction rate and a return to normal values ranging from 24 to 82%.2 
In some studies of RFA in patients with recurrent thyroid cancer, the rate of complete nodule disappearance after RFA is approximately 67%.2 According to some studies, regrowth of the thyroid nodule after RFA has been observed in 20% of patients. However, this rate may vary depending on the doctor's expertise.3 
To achieve the best results it is important to have this procedure done by an imaging specialist that performs a high number of ultrasound guided procedures, and has the skills and ability to maneuver the probe in a 3D plane.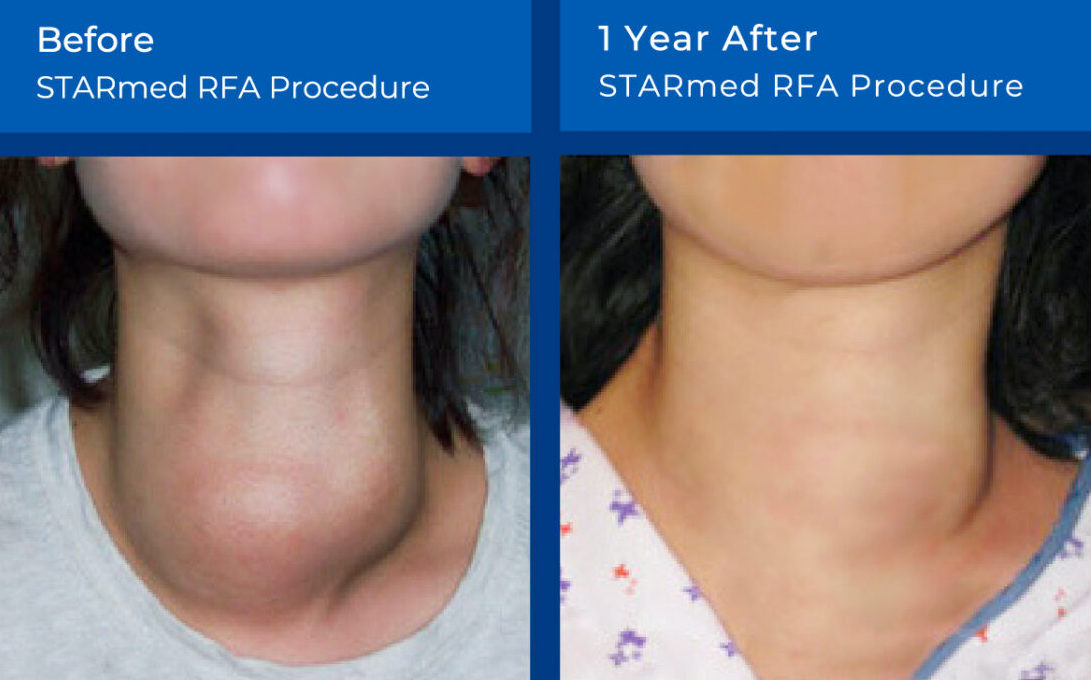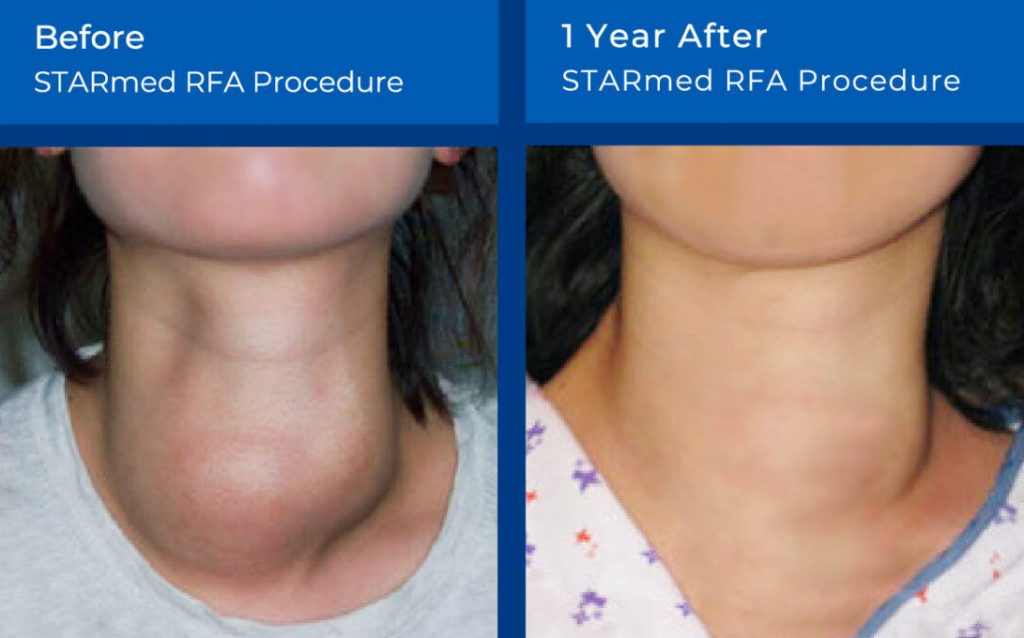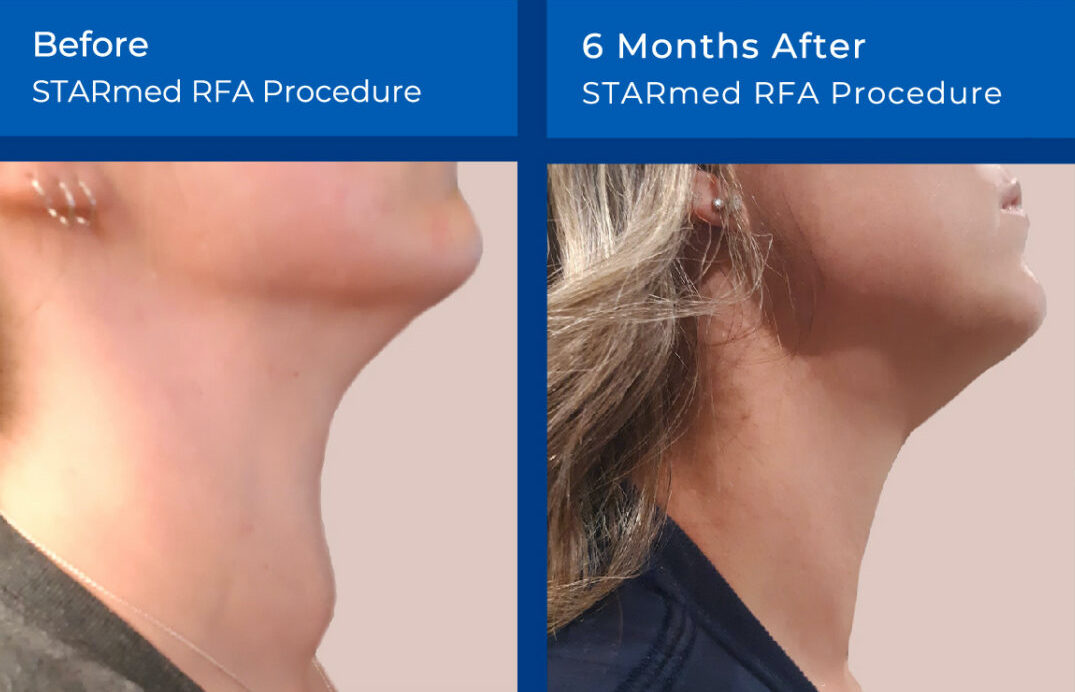 Patients leave the office with a Band-Aid after the completion of the procedure. There is no downtime, major incisions or sutures. There may be bruising that usually resolves in 1 or 2 weeks. Even though this procedure is quite painless, some patients may experience mild discomfort. 
Patients can typically return to normal activities the next day. However, avoiding heavy lifting and other activities that may cause neck strain is always advised. 
Why California Thyroid Center?
Our physician is one of only a few RFA specialists specifically trained in ultrasound-guided procedures performing over 2,000 procedures yearly of different parts of the body. As a double-board certified imaging specialist, he has received 6 years of post-graduate training with specialization in ultrasound guided procedures and ablations, which requires a 3D spatial understanding while viewing a 2D image. In comparison, most other RFA specialist trained by taking a weekend course and only perform 20-100 ultrasound guided procedures yearly. Our specialist performs ablation of not only the thyroid but more complex organs such as cancers of the kidney, liver and lung. These more complex organs require a higher level of skill and understanding of the ablative technology to prevent damage to nerves, bowel and nearby organs. This has allowed many of our patients to undergo the thyroid RFA procedure safely by our specialist with outstanding results, no matter the complexity.
Our practices uses the top RFA system by STARmed. This system was developed over 15 years ago, used worldwide and has perfected the ability to treat thyroids. The STARmed probes are also small and unique in allowing the procedure to be done without making any incisions, minimizing scarring.
What do you need to do next?
Request a consultation
to meet with our RFA specialist who will review your imaging, labs and history to determine if you are a good candidate for the procedure, and the outcomes you can expect. Each person is an individual and should discuss the potential risks and benefits of thyroid RFA with our doctor to decide if this is the best option.
Consultations are available via an online video telehealth platform or in person in Los Angeles, California. Why should you choose us? Read here.
Please note that although we strive to protect and secure our online communications, and use the security measures detailed in our Privacy Policy to protect your information, no data transmitted over the Internet can be guaranteed to be completely secure and no security measures are perfect or impenetrable. If you would like to transmit sensitive information to us, please contact us, without including the sensitive information, to arrange a more secure means of communication. By submitting this form you consent to receive text messages from CVI at the number provided. Msg & data rates may apply. Msg frequency varies. Unsubscribe at any time by replying STOP.
Complications of Thyroid RFA
To avoid complications it is necessary to find a specialist who is trained and an expert in ultrasound guided procedures, such as our specialist. In general, this procedure is usually well-tolerated and has a low incidence of complications (2.11% for benign nodules and less than 11% for recurrent thyroid cancer).
The most common minor complaint is pain which is usually tolerable and easily managed with NSAIDs.2 Bleeding is also a minor complication of RFA. However, this is easily managed with placing pressure on the treated area.  
Nerve damage leading to voice change is the most common major complication associated with this procedure (1.45% incidence for benign nodules and 7.95% for recurrent thyroid cancer). However, permanent voice change is very rare (less than 1%).2 Nodule rupture is the second most common major complication associated with RFA (0.17% incidence). This can cause pain and neck bulging and may require treatment with antibiotics.2 Other rare complications may include skin burn, transient hypothyroidism (very rare), lidocaine toxicity, and hypertension.2 
Keep in mind that these complications are rare and significantly less than the alternative surgery. To minimize risk, it is important to choose a specialist who has experience with performing ultrasound guided procedures. Our specialist performs over 2,000 ultrasound guided procedures a year. Having good technique and experience allows precise placement of the RFA needles to avoid injury to important structures. Good ultrasound technique is also important in achieving a satisfactory result.  
Request a consultation
 to meet with our RFA specialist who will review your imaging, labs and history to determine if you are a good candidate for the procedure, and the outcomes you can expect. Each person is an individual and should discuss the potential risks and benefits of thyroid RFA with our doctor to decide if this is the best option.
Consultations are available via an online video telehealth platform or in person in Los Angeles, California.  Why should you choose us? Read here.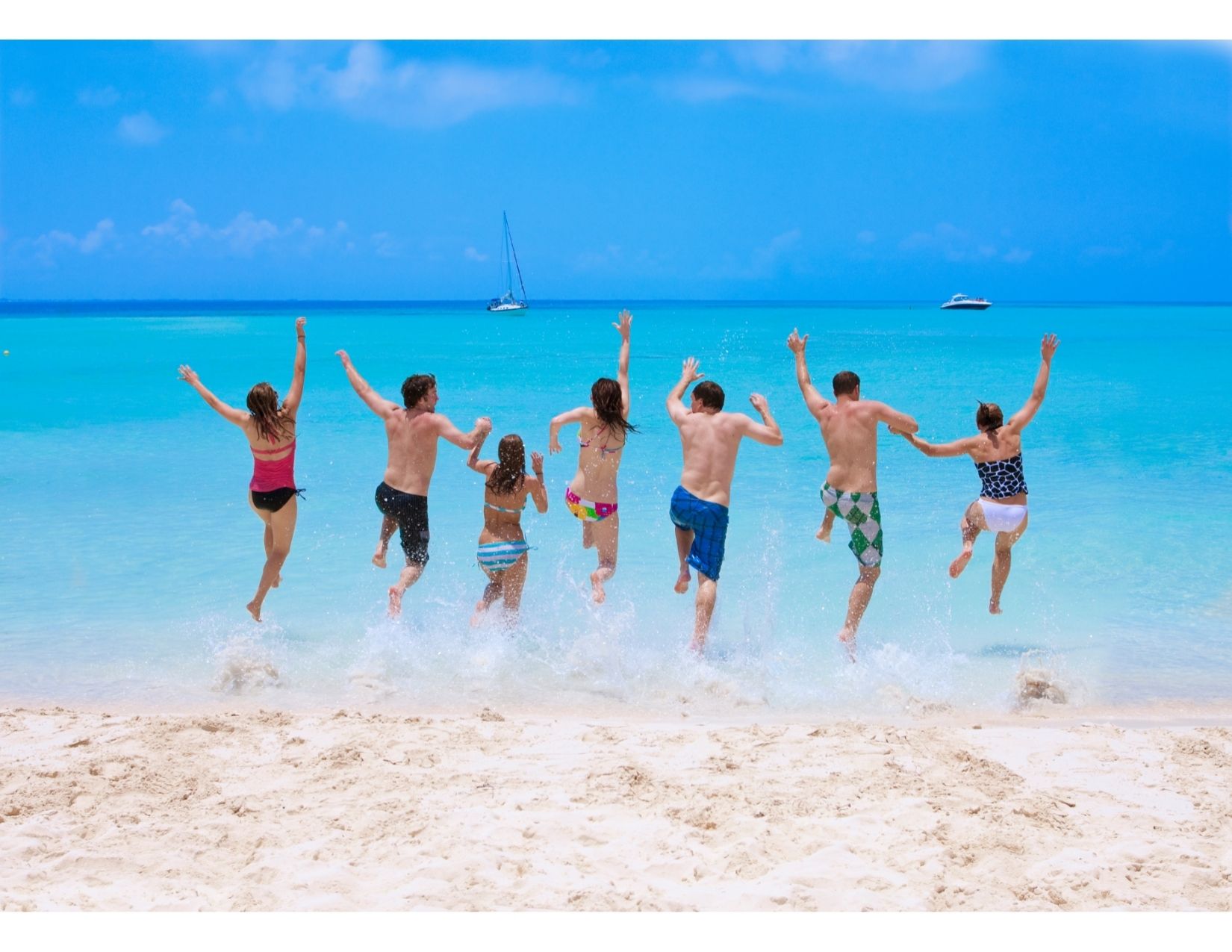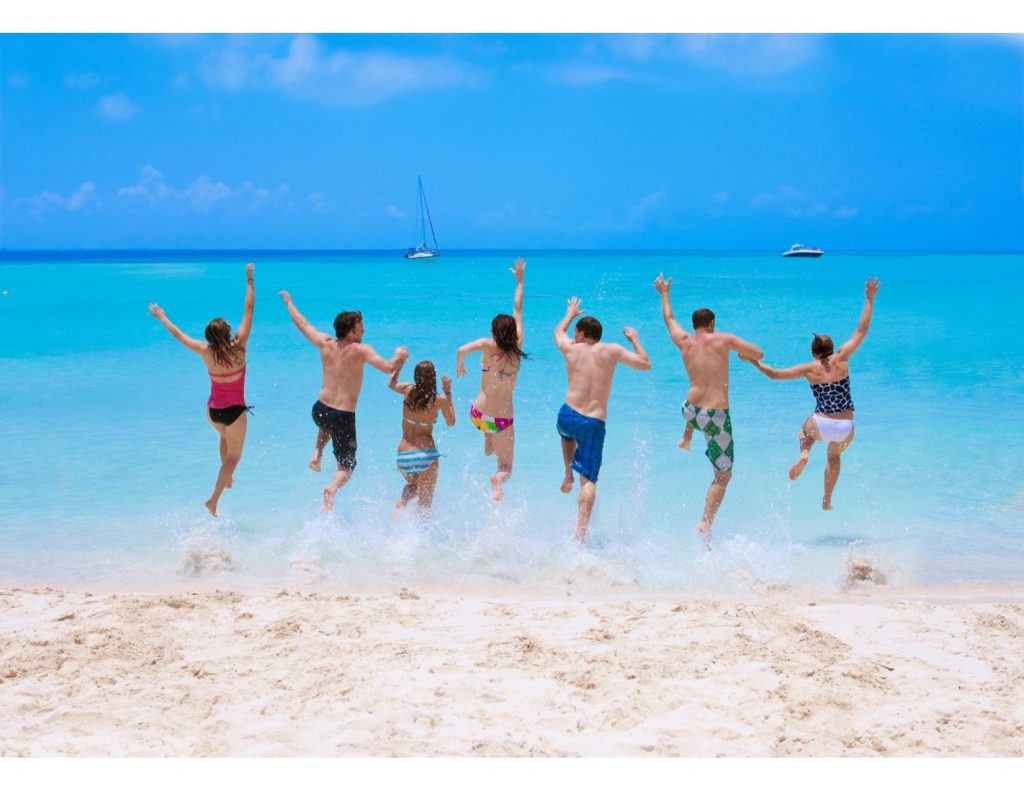 1.) Steven K Dankle, M. D. (2021, July 15). Thyroid nodule: Background, clinical outline, diagnostic workup. https://emedicine.medscape.com/article/127491-overview#a1
2.) Kim, J.-hoon, Baek, J. H., Lim, H. K., Ahn, H. S., Baek, S. M., Choi, Y. J., Choi, Y. J., Chung, S. R., Ha, E. J., Hahn, S. Y., Jung, S. L., Kim, D. S., Kim, S. J., Kim, Y. K., Lee, C. Y., Lee, J. H., Lee, K. H., Lee, Y. H., Park, J. S. Guideline Committee for the Korean Society of Thyroid Radiology (KSThR) and Korean Society of Radiology. 2017 thyroid radiofrequency ablation guideline: Korean Society of Thyroid Radiology. https://doi.org/10.3348/kjr.2018.19.4.632
3.) Bernardi, S., Bernardi, A. correspondence to: S., Giudici, F., Mediche, D. di S., Cesareo, R., Metaboliche, U. O. M., Antonelli, G., Ecoguidata, U. O. C. E. e, Cavallaro, M., Radiologia, U. O., Deandrea, M., Endocrinologia, U. O., Giusti, M., Endocrinologia, D. di, Mormile, A., Negro, R., Palermo, A., Bio-Medico, P. U. C., Papini, E. Five-Year results of Radiofrequency and laser ablation of Benign THYROID NODULES: A Multicenter Study from the Italian minimally invasive treatments of the Thyroid Group. https://www.liebertpub.com/doi/10.1089/thy.2020.0202
The above information explains what is involved and the possible risks. It is not meant to be a substitute for informed discussion between you and your doctor but can act as a starting point for such a discussion.