Thyroid goiter is enlargement of the thyroid gland.1 Both men and women can develop a multinodular goiter, but women are at a higher risk, especially during pregnancy.2,3
There can be three types of goiter: diffuse goiter, nodular goiter and multinodular goiter.7 Diffuse goiter involves diffuse (that is, not localized to a certain region) swelling or enlargement of the entire thyroid gland.7 Meanwhile, nodular goiter occurs when there is only one nodule in the thyroid gland, while multinodular goiter occurs when the thyroid gland has multiple nodules.1,7
On the basis of thyroid hormone levels, goiters can be classified as toxic or non-toxic. Toxic goiters involve excessive thyroid hormone levels and low levels of thyroid-stimulating hormone (TSH), while non-toxic goiters are associated with normal thyroid hormone levels.7
Goiter can be caused by a variety of factors:
The most common cause of a goiter is iodine deficiency – most commonly seen in countries that lack an iodine supplementation intervention.1,2,7
Overactive thyroid or hyperthyroidism
Thyroid disorders that lead to hyperthyroidism, including autoimmune disorders like Graves' disease, can also cause goiter.7
Disease conditions that cause an inflammation (and thus enlargement) of the thyroid gland, including different types of thyroiditis, like autoimmune thyroiditis, radiation thyroiditis, suppurative thyroiditis, silent thyroiditis, and postpartum thyroiditis.7
Thyroid cancer and other diseases
Thyroid cancer and other thyroid disorders like euthyroidism and granulomatous diseases of the thyroid can also cause goiter.7
Multinodular Goiter: Diagnosis
Physical examination is the most common way of diagnosing a thyroid goiter.2 If the nodules in the thyroid gland are larger than a centimeter in size, a physician can detect them in the neck by touch.2
The next easiest and fastest test is an ultrasound, commonly used when results of the physical examination are inconclusive.9 Ultrasound helps distinguish between thyroid nodules and other masses in the cervical region, such as those caused by enlarged lymph nodes or cysts.9
If the nodules are large enough, this can cause deviation of the trachea, the breathing tube. This can be apparent by exam or imaging such as a CT. With imaging, doctors can see the extension of the thyroid size into the chest.2
Multinodular Goiter: Treatment Options
Currently the gold standard treatment for a goiter is surgical removal called hemithyroidectomy or total thyroidectomy.4 The downside is that complete removal of the thyroid gland will result in permanent hypothyroidism requiring lifelong hormone replacement. There are also surgical risks which include nerve injury, electrolyte imbalances, infection, and other post-operative complications, especially among older patients.8
The use of radioactive iodine is another option when patients do not wish to get surgery.4 Radioactive iodine also has the risk of causing permanent hypothyroidism, making lifelong hormone supplements also necessary.4
Percutaneous ablation is another less invasive option but can require multiple treatments.4 RFA is recommended only in patients with one to two nodules.4
Recently, non-surgical thyroid artery embolization (TAE) has become an effective, minimally invasive, and safer alternative for a thyroid goiter.4
Please note that although we strive to protect and secure our online communications, and use the security measures detailed in our Privacy Policy to protect your information, no data transmitted over the Internet can be guaranteed to be completely secure and no security measures are perfect or impenetrable. If you would like to transmit sensitive information to us, please contact us, without including the sensitive information, to arrange a more secure means of communication. By submitting this form you consent to receive text messages from CVI at the number provided. Msg & data rates may apply. Msg frequency varies. Unsubscribe at any time by replying STOP.
Thyroid Arterial Goiter Embolization (TAE): Procedure
Thyroid Artery Goiter Embolization, or TAE, is a non-surgical image-guided procedure that effectively treats an enlarged thyroid gland, or goiter. This is done by placing a tiny catheter into the thyroid artery and blocking the blood flow to some of the glandular tissue.
The procedure is only performed by a trained Vascular and Interventional Radiologist. This procedure can be performed by either placing the catheter in an artery at the top of the leg (called a femoral approach) or by placing it into an artery in the lower arm (called a radial approach).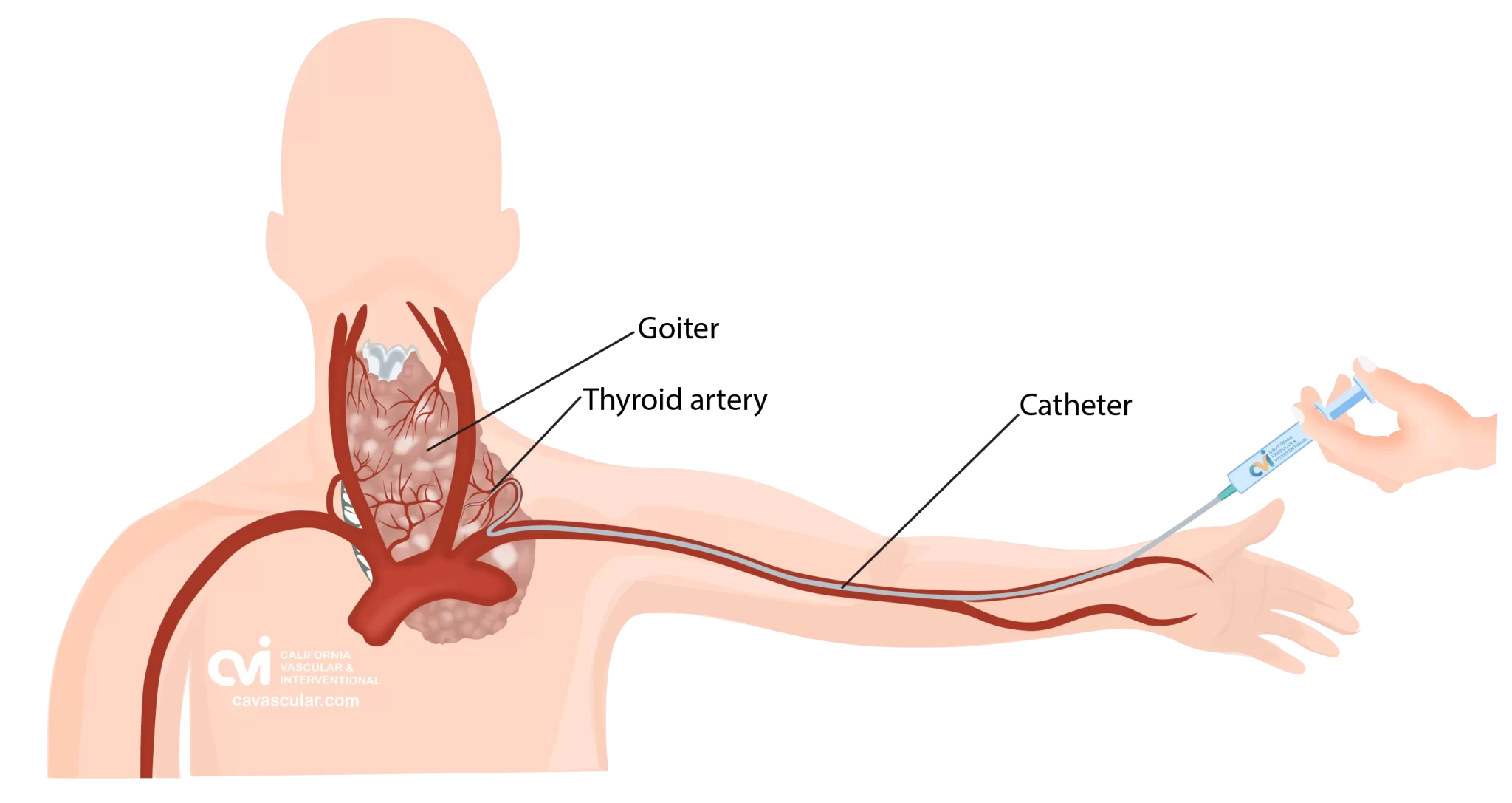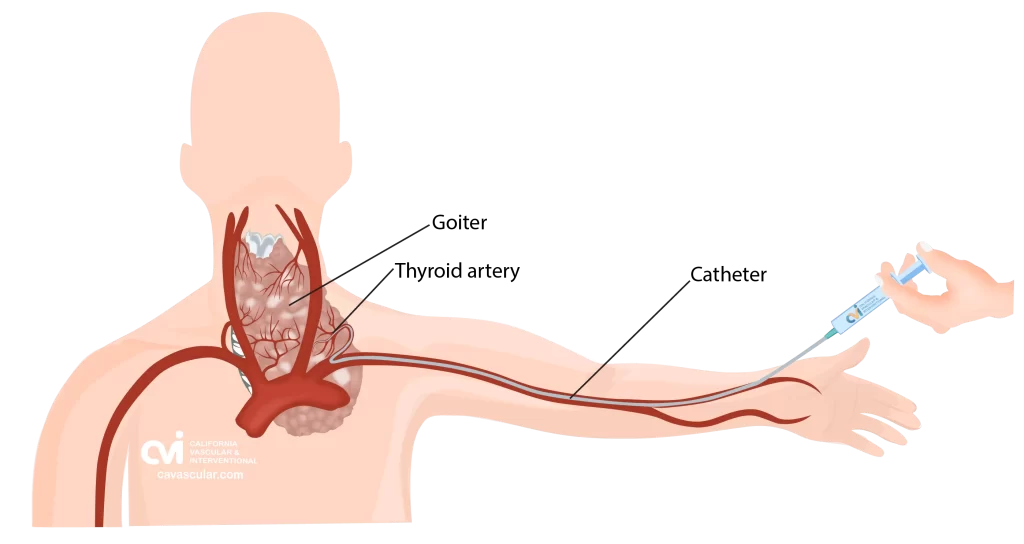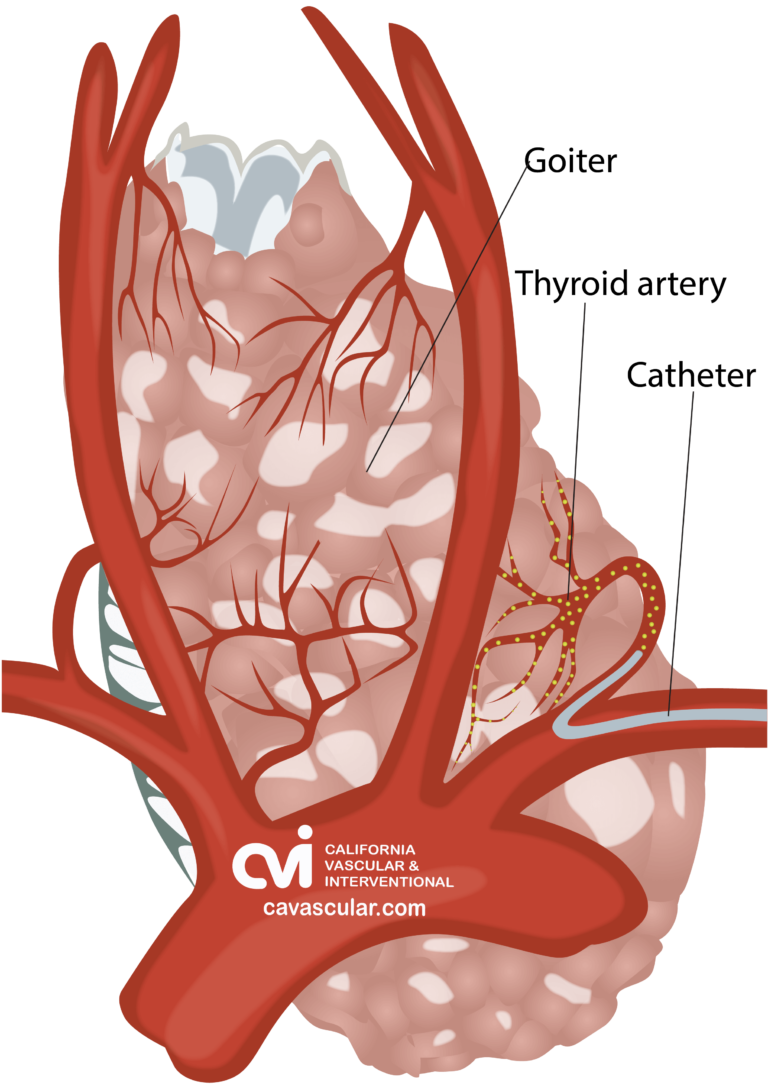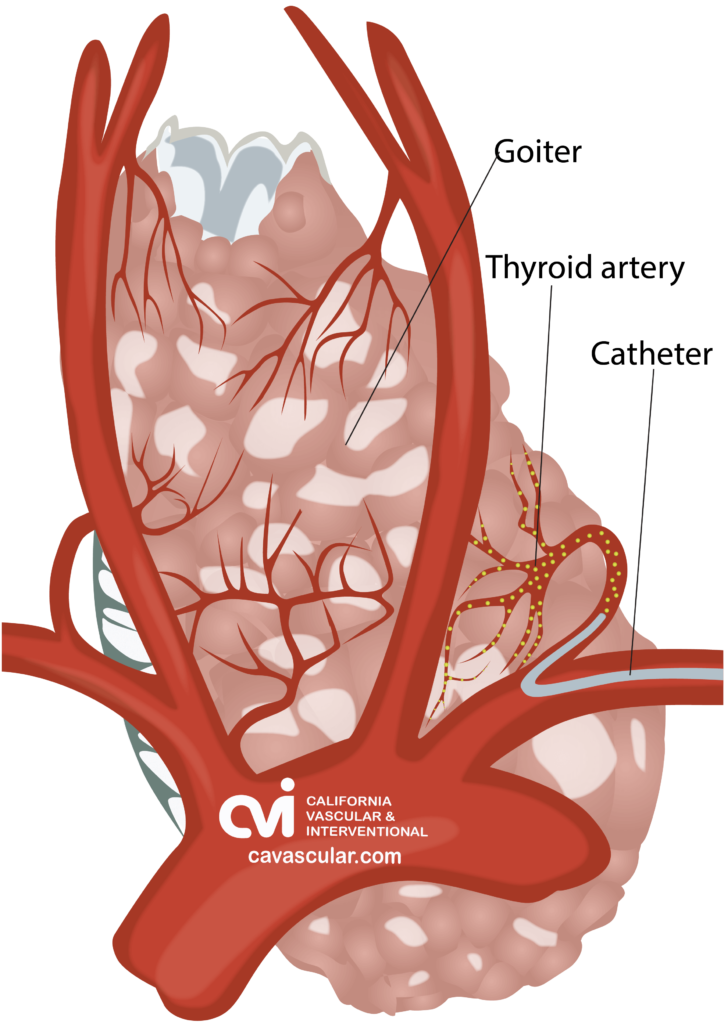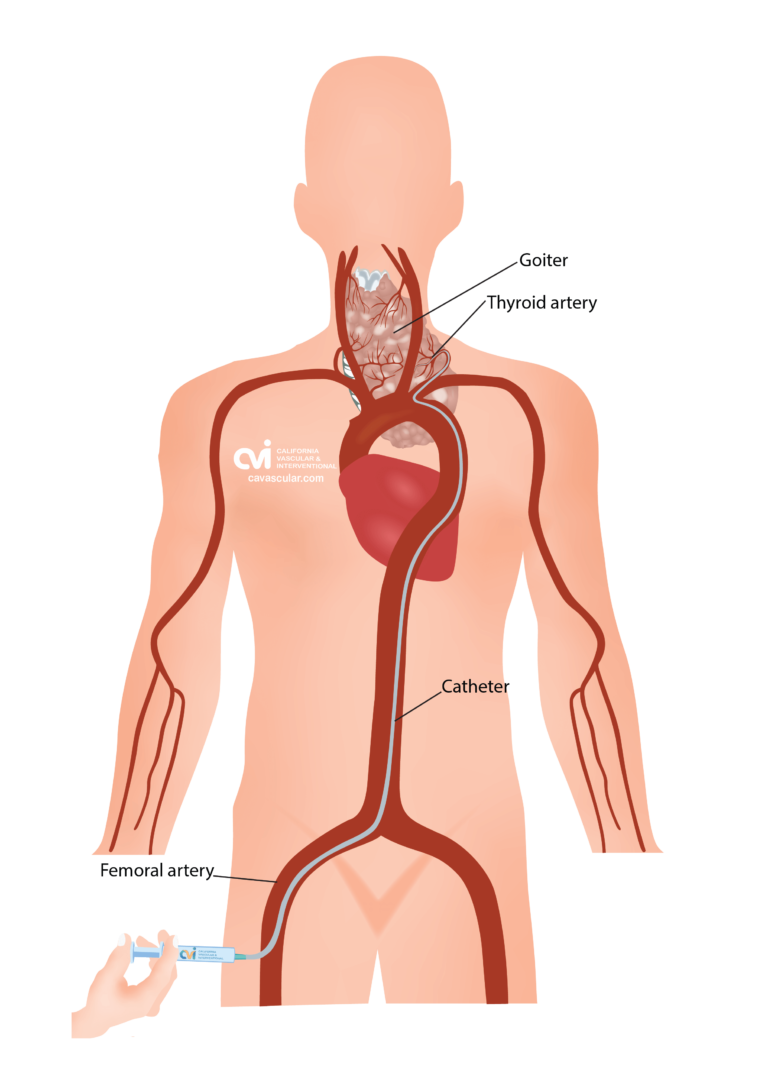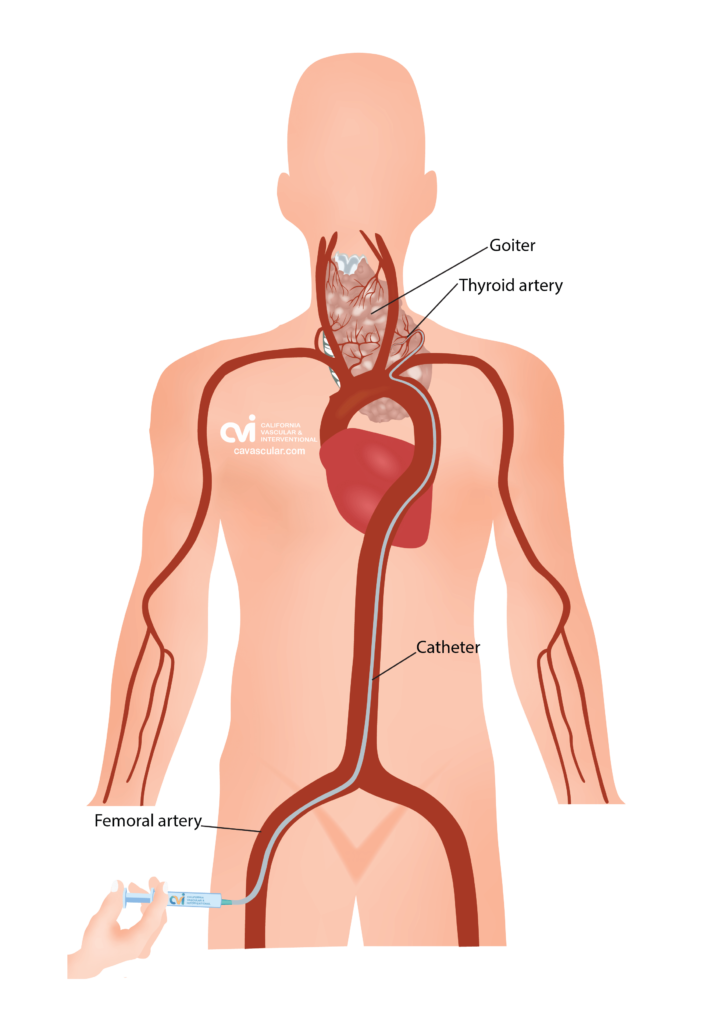 The patient is given a local and topical anesthetic to numb the skin and a mild sedative, so that the procedure is not painful.
During TAE, the doctor first identifies the thyroid arteries (blood vessels) that bring blood to the thyroid gland.4 The doctor then treats one to three thyroid arteries by delivering tiny particles through the catheter that embed into the nodular tissue.4 The entire procedure is performed under imaging guidance of an X-ray machine, and typically takes less than an hour.5 There is no downtime, major incision, scar or hospital stay. Patients go home with just a Band-Aid.
Advantages of Thyroid Artery Embolization
Thyroid Arterial Embolization (TAE): Results
Within six months of undergoing TAE, patients report excellent outcomes. Here is a timeline of these outcomes after TAE:
1 month: Improvements in thyroid hormone levels and a reduction in size within a month of the procedure.4,6 Importantly, the procedure itself does not worsen the condition of the thyroid gland in terms of thyroid hormone secretion.10
3 months: Volume of the goiter decreases by up to 32%.10 Compression-related symptoms begin to show significant improvement, even in patients with the largest goiters.10
6 months: Substantial improvements in goiter symptoms as well as normalization of any hyperthyroidism symptoms.4
One study showed that more than 98% of the patients who underwent TAE reported a high satisfaction rate six months after the procedure, and also considered recommending other patients with multinodular goiter to undergo the procedure themselves.4
Thyroid Arterial Embolization (TAE): Recovery
The TAE has a one-day downtime. Some soreness at the neck and at the catheter insertion site is to be expected. The procedure is done as outpatient and patients go home the same day. Patients may be placed on a short course of antibiotics and pain medication after TAE.4
Thyroid Arterial Embolization: Surgery vs TAE
Surgery and TAE are two vastly different treatment options for a multinodular goiter. Surgical methods for the treatment of multinodular goiter are highly invasive with surgical risks and loss of an organ. TAE is a minimally invasive outpatient alternative with organ preservation.4 Treatment of multinodular goiter via surgery is associated with complications like hypoparathyroidism, laryngeal nerve palsy, and permanent hypothyroidism requiring lifelong hormone therapy.4
Meanwhile, complications associated with TAE are largely minor (neck pain, hoarseness, etc.) and temporary.4 Major complications, such as symptomatic hyperthyroidism and groin hematoma are rare but possible.4 However, unlike surgery, TAE is not known to cause permanent hypothyroidism or hypoparathyroidism.4
TAE is a minimally invasive, cost-feasible, effective, and a safer alternative to invasive surgical removal that would result in complete loss of thyroid function. If you are suffering from multinodular goiter, contact us today to discuss thyroid arterial embolization as a treatment option.
Thyroid Goiter TAE vs RFA
Thyroid RFA and TAE are very different non-surgical procedures. Thyroid RFA places a specialized probe into the tissue, using heat to shrink the tissue. Thyroid TAE places small beads into the blood supply of the thyroid tissue, causing the body to shrink the tissue. If you have a large multinodular thyroid gland, both procedures can be done however which is the best choice?
Typically, RFA is a great option if you have one or two large thyroid nodules. RFA is a targeted precise therapy that can effectively reduce the size of these nodules; however it is not so great for someone that has numerous nodules or bilateral enlarged thyroid glands. The TAE procedure on the other hand is a more diffuse treatment that can target a whole region of the thyroid gland causing a larger effect. Dr Allaei is one of very few physicians that has experience with both treatments. To schedule a consultation to see which treatment is best suited for your clinical situation contact our office today.
Read about thyroid RFA – click here
Why California Thyroid Center?
Our physician is one of only a few specialists with a background in both thyroid RFA ablation and the embolization technique. He will evaluate you and decide which treatment option will suit you best. Sometimes a combination approach is necessary to save the thyroid gland. 
Our center specializes in embolizations, and our staff is uniquely trained to care for these types of procedures, from the pre-op to the post-op period. Our specialist performs embolization for not only the thyroid but also in other higher risk and complex organs, such as the uterus, kidney, liver, prostate, lung and others. Patients are often surprised how quick and simple the TAE procedure was for them, but this comes at the experience of our specialist who performs a variety of complex embolizations safely. This diversity of experience has resulted in our specialist to treat complex cases safely and effectively. 
Our specialist continually keeps up with the research to make sure that he brings the best and newest technology to our center. We are also always collecting feedback from patients and modifying how we provide care so that patients have the best level of experience.
Request a consultation
 to meet with our specialist who will review your imaging, labs and history to determine if you are a good candidate for the procedure, and the outcomes you can expect. Each person is an individual and should discuss the potential risks and benefits of these treatments with our doctor to decide if this is the best option.
Consultations are available via an online video telehealth platform or in person in Los Angeles, California.  Why should you choose us? Read here.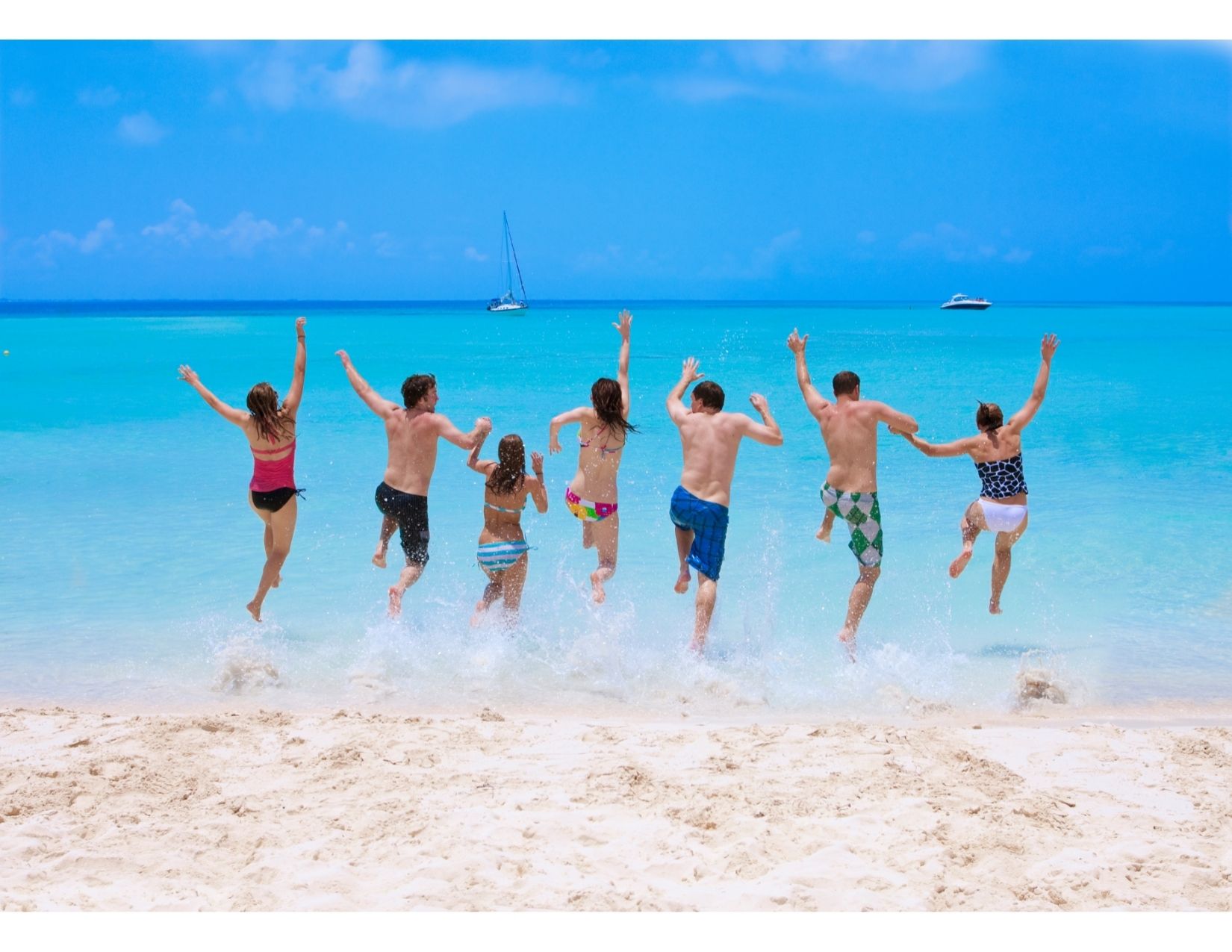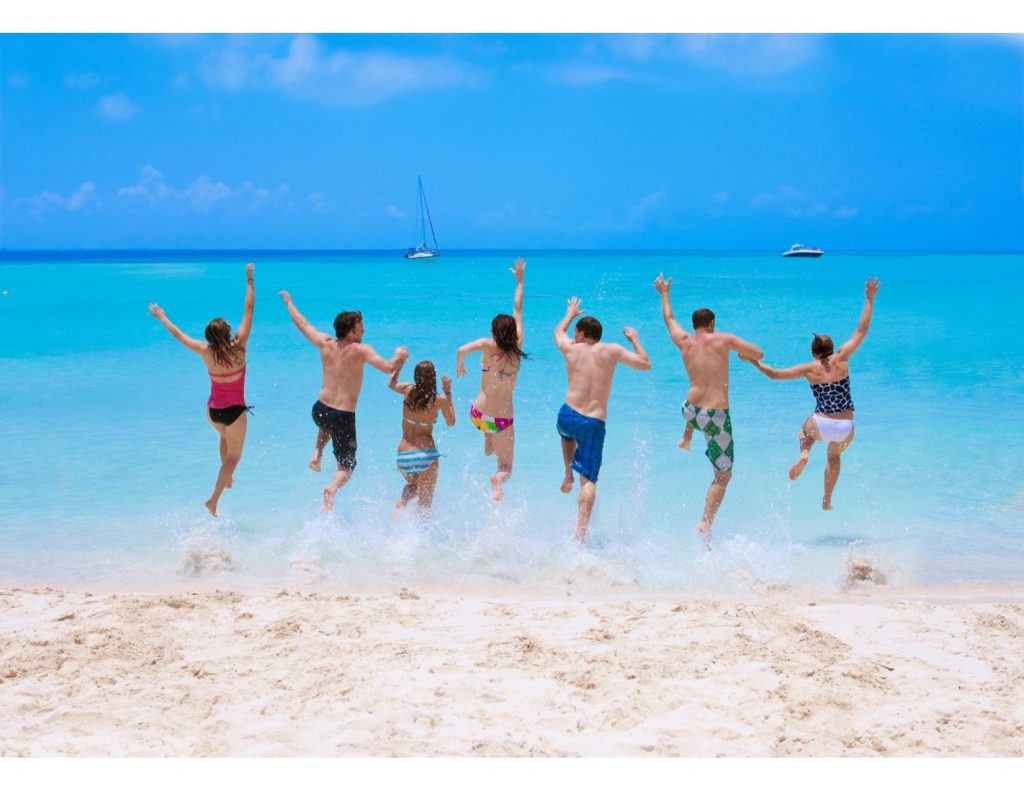 Saran, S., 2020. Multinodular goiter. In Goiter-Causes and Treatment. IntechOpen.
Medeiros-Neto, G., 2016. Multinodular goiter. Endotext [Internet].
Kung, A.W.C., Chau, M.T., Lao, T.T., Tam, S.C.F. and Low, L.C.K., 2002. The effect of pregnancy on thyroid nodule formation. The Journal of Clinical Endocrinology & Metabolism, 87(3), pp.1010-1014.
Yilmaz, S., Habibi, H.A., Yildiz, A. and Altunbas, H., 2021. Thyroid embolization for nonsurgical treatment of nodular goiter: a single-center experience in 56 consecutive patients. Journal of Vascular and Interventional Radiology, 32(10), pp.1449-1456.
Dedecjus, M., Tazbir, J., Kaurzel, Z., Stróżyk, G., Zygmunt, A., Lewiński, A. and Brzeziński, J., 2009. Evaluation of selective embolization of thyroid arteries (SETA) as a preresective treatment in selected cases of toxic goitre. Thyroid Research, 2(1), pp.1-7.
en Oz, G., Cander, S., Sisman, P., Cosar, A., Ersoy, C. and Erturk, E., 2018, May. Thyroid arterial embolization for the treatment of large multinodular goiter and hyperthyroidism. In Endocrine Abstracts (Vol. 56). Bioscientifica.
Can, A.S. and Rehman, A., 2020. Goiter. In StatPearls [Internet]. StatPearls Publishing.
Finnerty, B.M., Gray, K.D., Ullmann, T.M., Zarnegar, R., Fahey, T.J. and Beninato, T., 2020. Frailty is more predictive than age for complications after thyroidectomy for multinodular goiter. World Journal of Surgery, 44, pp.1876-1884.
Hegedüs, L., 2001. Thyroid ultrasound. Endocrinology and Metabolism Clinics of North America, 30(2), pp.339-360.
Kaminski, G., Jaroszuk, A., Zybek, A., Brzozowski, K., Piasecki, P., Ziecina, P. and Ruchala, M., 2014. The calcium–phosphate balance, modulation of thyroid autoimmune processes and other adverse effects connected with thyroid arterial embolization. Endocrine, 46, pp.292-299.
The above information explains what is involved and the possible risks. It is not meant to be a substitute for informed discussion between you and your doctor but can act as a starting point for such a discussion.