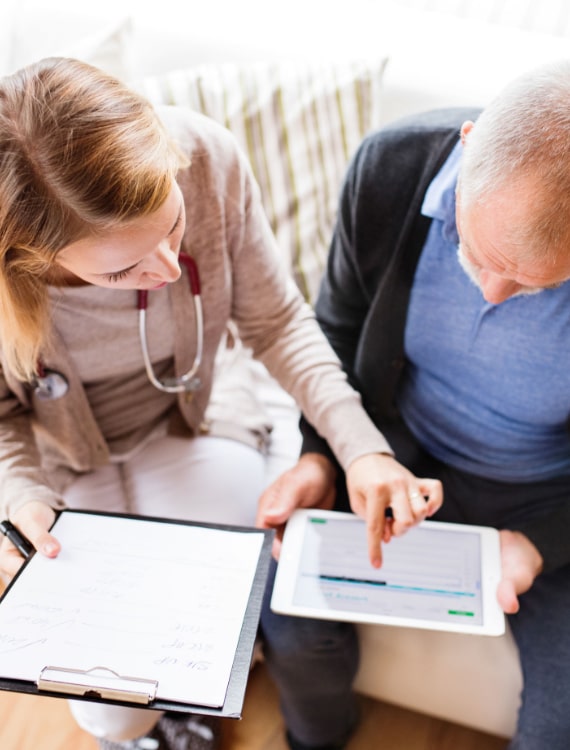 Thyroid Nodule
RFA Ablation Specialist
You are not alone. 5 to 10% of the US population may develop a palpable nodule in their lifetime. Surgery and radiation is not your only option.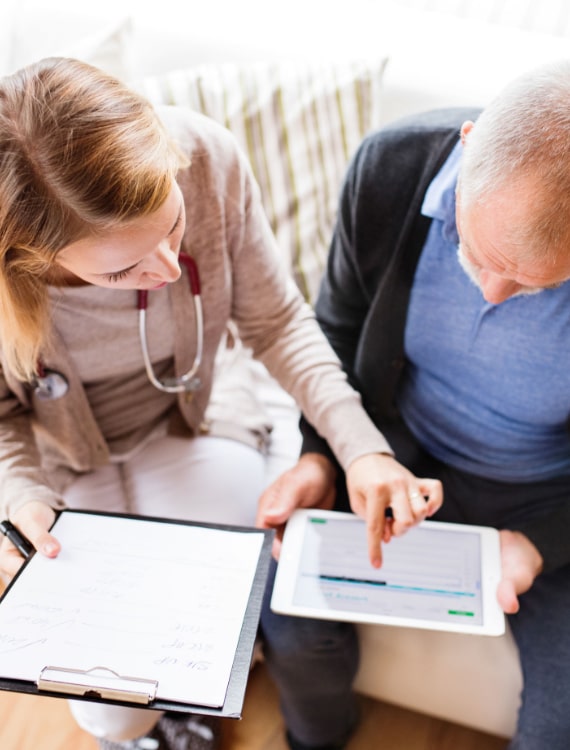 The Leading Center for
Thyroid RFA
You are not alone. 5 to 10% of the US population may develop a palpable nodule in their lifetime. Surgery and radiation is not your only option. 
We are a physician-owned and guided practice. There are no middlemen, hedge-fund companies, or investors affecting how we provide patient care. We have the freedom to make decisions that result in the best experiences and outcomes for our patients. Patient and staff feedback provide the roadmap for the direction of our practice. We invite you to learn more about us!
See which procedure is right for you!
Medical Procedure Comparison Chart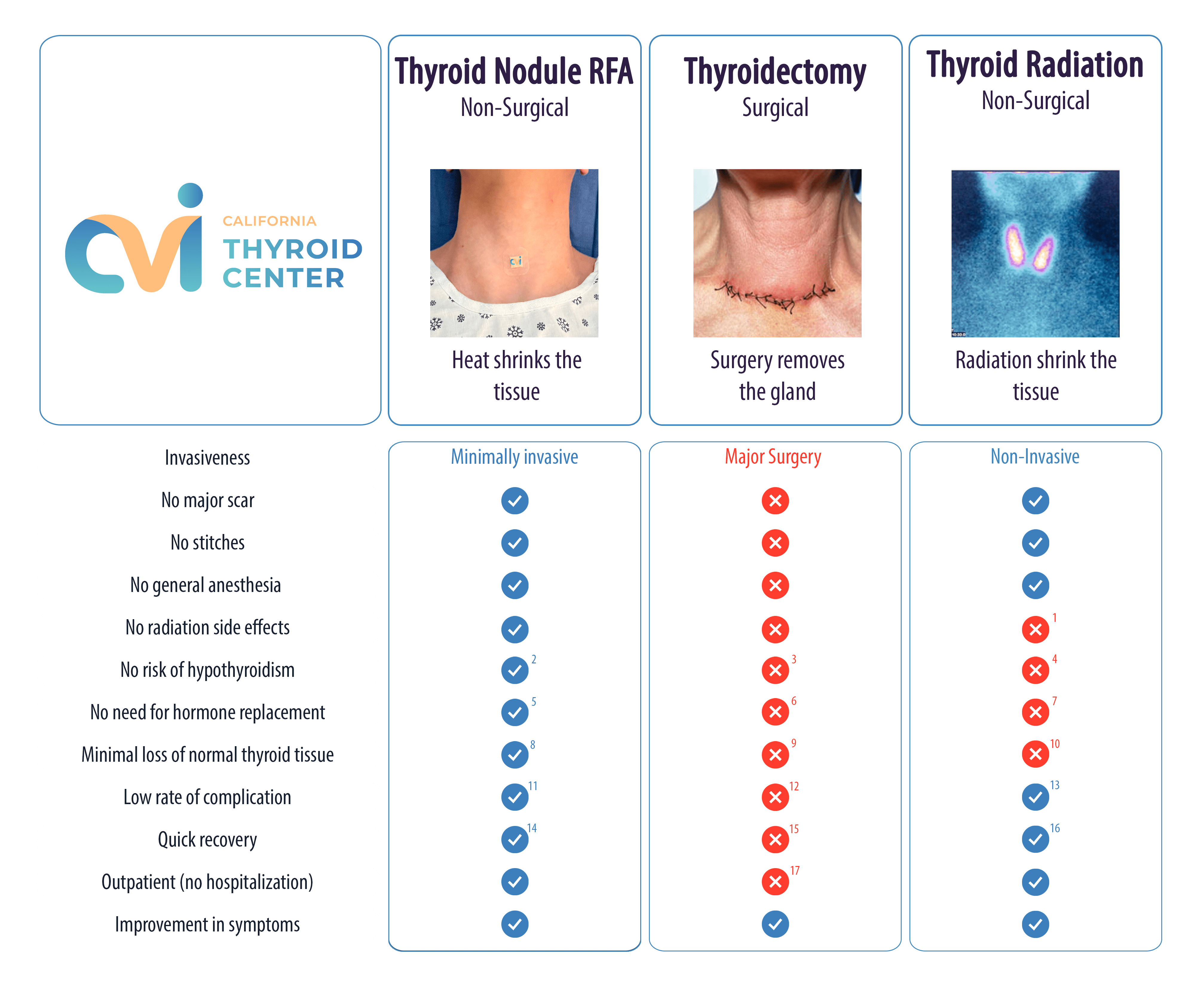 1.) Possible acute side effects of radiation therapy include neck discomfort, nausea, vomiting, loss of taste, salivary gland pain and swelling (sialoadenitis), dry mouth, and sore throat. Also, temporary infertility in men who receive RAI therapy for thyroid cancer can occur. Some studies suggest that radiation-induced cancer risks following RAI therapy for hyperthyroidism are small and that these may be higher after high-dose therapy. (1,2)
2.) Due to targeted therapy, hypothyroidism is extremely rare after thyroid RFA. (3,4)
3.) Damage to the parathyroid glands or their removal during a thyroid nodule surgery can cause transient or permanent hypocalcemia. Some studies have shown a 27% risk of hypothyroidism after hemithyroidectomy. (5,6)
4.) Hypothyroidism or underactive thyroid is an expected side effect of RAI therapy. The incidence of hypothyroidism following RAI therapy is going to be determined by the number of sessions and the dose as well. (1,7)
5.) The risk of developing problems with thyroid function after thyroid RFA is very rare. Therefore, there is no need for hormone replacement therapy in the majority of cases. (3,4)
6.) Hormone replacement therapy is required in patients after total thyroidectomy. Due to the complete removal of the thyroid gland, these patients are going to need to take a pill containing synthetic thyroxine (T4). This drug is going to work the same way as the patient's thyroid hormone would. (5)
7.) Hypothyroidism or underactive thyroid is an expected side effect of RAI therapy because normal functional tissue is also destroyed in the process. Generally, a low-dose thyroid hormone replacement (manmade thyroid hormone) is started before hypothyroidism ensues. The most commonly prescribed is pure synthetic thyroxine (T4). (1,7)
8.) Due to the targeted nature of this procedure, it usually results in minimal or no damage to surrounding thyroid tissue. (8)
9.) Total thyroidectomy results in complete removal of the thyroid gland. Therefore, it is going to remove both normal and affected thyroid tissue altogether. On the other hand, a lobectomy only removes the affected lobe, leaving viable thyroid tissue unaffected. The choice between these two procedures is going to be made according to the underlying condition. (5)
10.) Radioactive iodine therapy damages both normal and affected thyroid tissue. (1, 7)
11.) This procedure is usually well-tolerated and has a very low incidence of complications (2.11% for benign nodules and less than 11% for recurrent thyroid cancer). The most common minor complaint is pain which is usually tolerable and easily managed with NSAIDs. (8)
12.) The complication rate of this procedure is relatively low. Some studies have shown a 7.74% complication rate for both inpatient and outpatient procedures. (5)
13.) RAI therapy complication rates are going to be affected by the number of sessions and dosage. However, it usually has a low rate of complications associated. (1,7)
14.) Patients are usually discharged on the same day of the procedure. They may experience bruising that usually resolves in 1 or 2 weeks. Even though this procedure is quite painless, some patients may experience mild discomfort. Usually, the patient can return to normal activities the next day. However, avoiding heavy lifting and other activities that may cause neck pain is always advised. (12)
15.) Neck pain is a common complaint after surgery and it is usually managed with nonopioid drugs. Hoarseness and neck pain should resolve within the first week after the surgery if no major complications happened during the procedure. Patients are instructed to avoid heavy lifting and strenuous exercise routines for 10 days. Other than that, they may go back to their usual routine within a week after surgery. (11)
16.) In most cases, thyroid hormone levels will return to normal (or below normal) after a single dose of treatment. This may take around 2-5 months. Importantly, patients will be radioactive after treatment for several days. Thus, certain safety precautions to protect others from radiation should be taken. (9, 10)
17.) Thyroid nodule surgery can be performed as an outpatient procedure. However, many surgeons prefer to leave their patients on observation for the night, especially if they have a high risk of postop bleeding. Additionally, calcium levels need to be measured to rule out iatrogenic hypoparathyroidism. (13)
1.) Padda, I. S. (2021, June 2). Radioactive Iodine Therapy. StatPearls [Internet]. https://www.ncbi.nlm.nih.gov/books/NBK557741/.
2.) 10. Shim, S. R., Kitahara, C. M., Cha, E. S., Kim, S.-J., Bang, Y. J., & Lee, W. J. (2021). Cancer risk after radioactive iodine treatment for hyperthyroidism. JAMA Network Open, 4(9). https://doi.org/10.1001/jamanetworkopen.2021.25072
3.) Che, Y., Jin, S., Shi, C., Wang, L., Zhang, X., Li, Y., & Baek, J. H. (2015). Treatment of benign thyroid nodules: Comparison of surgery with radiofrequency ablation. American Journal of Neuroradiology, 36(7), 1321–1325. https://doi.org/10.3174/ajnr.a4276
4.) Sung, J. Y., Baek, J. H., Jung, S. L., Kim, J.-hoon, Kim, K. S., Lee, D., Kim, W. B., & Na, D. G. (2015). Radiofrequency ablation for Autonomously Functioning Thyroid Nodules: A Multicenter Study. Thyroid, 25(1), 112–117. https://doi.org/10.1089/thy.2014.0100
5.) Pramod K Sharma, M. D. (2021). Complications of thyroid surgery. Practice Essentials, Overview, Bleeding. https://emedicine.medscape.com/article/852184-overview#a1
6.) Chotigavanich C; Sureepong P; Ongard S; Eiamkulvorapong A; Boonyaarunnate T; Chongkolwatana C; Metheetrairut C. Hypothyroidism after hemithyroidectomy: The incidence and risk factors. Journal of the Medical Association of Thailand https://pubmed.ncbi.nlm.nih.gov/27455828/.
7.) Husseni, M. A. (2016). The incidence of hypothyroidism following the radioactive iodine treatment of graves' disease and the predictive factors influencing its development. World journal of nuclear medicine. https://www.ncbi.nlm.nih.gov/pmc/articles/PMC4729012/.
8.) Kim, J.-hoon, Baek, J. H., Lim, H. K., Ahn, H. S., Baek, S. M., Choi, Y. J., Choi, Y. J., Chung, S. R., Ha, E. J., Hahn, S. Y., Jung, S. L., Kim, D. S., Kim, S. J., Kim, Y. K., Lee, C. Y., Lee, J. H., Lee, K. H., Lee, Y. H., Park, J. S. Guideline Committee for the Korean Society of Thyroid Radiology (KSThR) and Korean Society of Radiology. 2017 thyroid radiofrequency ablation guideline: Korean Society of Thyroid Radiology. https://doi.org/10.3348/kjr.2018.19.4.632
9.) Radioactive Iodine. American Thyroid Association. Retrieved October 1, 2021, from https://www.thyroid.org/radioactive-iodine/.
10.) Lee, S. L. (2020, December 5). What monitoring is needed after radioactive iodine therapy for hyperthyroidism? Medscape. Retrieved October 1, 2021, from https://www.medscape.com/answers/121865-25290/what-monitoring-is-needed-after-radioactive-iodine-therapy-for-hyperthyroidism
11.) Perry, E. (2019, September 7). Thyroid surgery patient information: Johns Hopkins Medicine in Baltimore, MD. Thyroid Surgery Patient Information | Johns Hopkins Medicine in Baltimore, MD. Retrieved October 2021, from https://www.hopkinsmedicine.org/surgery/specialty-areas/surgical-oncology/endocrine/patient_information/thyroid_surgery.html.
12.) Mount Sinai Surgeon performs radiofrequency ablation for thyroid nodules. Mount Sinai Health System. Retrieved Octobe, 2021, from https://www.mountsinai.org/about/newsroom/2019/mount-sinai-surgeon-performs-radiofrequency-ablation-for-thyroid-nodules#:~:text=Patients%20who%20undergo%20RFA%20can,require%20permanent%20thyroid%20hormone%20medication.
13.) Balentine, C. J; Sippel, R. S. (2016, January). Outpatient thyroidectomy: Is it safe? Surgical oncology clinics of North America. Retrieved October, 2021, from https://www.ncbi.nlm.nih.gov/pmc/articles/PMC5134424/.
The above information explains what is involved and the possible risks. It is not meant to be a substitute for informed discussion between you and your doctor, but can act as a starting point for such a discussion.
Why We Specialize in Non-Surgical Thyroid RFA
RFA uses a single small probe without requiring an incision. Unlike a major surgery, there is less pain, less risk and faster recovery.
Outpatient procedures require no hospital stay or anesthesia. Procedure is done in a specialty center. Get back to your normal everyday routine!
Thyroid RFA is supported by numerous studies as an effective alternative to surgery without long term affects on your thyroid hormone.
No major incisions requiring drainage catheters or stitches. You walk out of the office the same day with just a Band-Aid. 
At CVI, we take our time with consultations and procedures. Our physician has the freedom to spend as much time as needed with each patient. This is a luxury that is hard to find in most corporate medical practices. We are united with our patients to provide the best care and experience possible.
Everyone was so kind to me! I felt so comfortable during the entire time. I was so nervous that the procedure wouldn't work, but Dr Allaei was amazing! He did the procedure so quickly & with great success. I'm so grateful for everyone in this office. You are all angels in my book. Thank you all so much!
Hands down the absolute best practice for their specific areas of expertise. Communicating with the practice is next level. Communication with Dr. Allaei and staff is real time, as they offer text communication! No more annoying elevator music and waiting all day for call backs! Everyone I interacted with was knowledgeable, professional, and truly caring. Both the Dr. and staff are extremely responsive to questions and concerns and are flexible with scheduling. My only complaint (jokingly) is that that don't practice in primary care, because I would absolutely make Dr. Allaei my primary care physician!
Amazing doctor... a real doctor. thank you for everything.
Dr. Allaei is great and took the time to answer all of my questions. I never felt rushed during the appointment. His staff and team was also very professional and took good care of me.
Having been to many doctors' offices over the years it was nice to actually have the doctor spend more than 5 minutes to listen to your medical concerns and explain the situation. The coordinator was also very nice and helpful.
I had to travel to this office from out of town for the RFA procedure and my experience was outstanding. Dr Allaei is a true master of his particular skill set. I hardly felt anything and the procedure took less than an hour. The nodule was tender for a couple of days but I was able to go about my usual activities. I can't see any incision scar and didn't experience any bruising.
" I am glad that I found this facility. I was well-taken care of and was given a detailed analysis of my condition that really helped me place my confidence within the medical team. Thank you for the diagnosis, and I would recommend all males going through vein enlargement issues to consult here! "
" After experiencing pain in my testicles, I wasn't sure where and who to reach out to, considering the sensitivity of the matter. I can say this with confidence that choosing CVI was a great decision that yielded positive results for my health. "
" The team won my vote! My hesitations, concerns, and diagnoses were addressed professionally, which allowed me to develop trust and go ahead with the treatment. The results have been beyond satisfactory. "
" The doctor is definitely a specialist in the area of treating infertility issues. My wife and I have been going through a rough patch, but thankfully things are improving, and we are hopeful for great news ahead! Thank you, doctor and the team. "
The testimonials, statements, and opinions presented on our website are applicable to the individuals depicted. Results will vary and may not be representative of the experience of others. The testimonials are voluntarily provided and are not paid, nor were they provided with free products, services, or any benefits in exchange for said statements. The testimonials are representative of patient experience but the exact results and experience will be unique and individual to each patient. Testimonial are not a substitute for medical advice from a physician.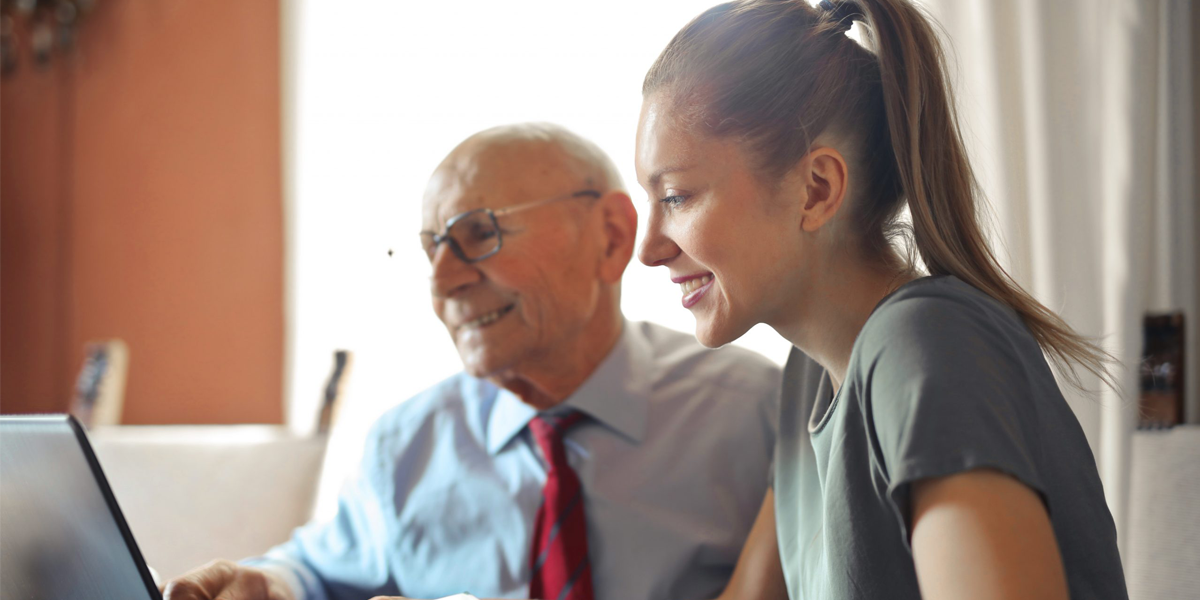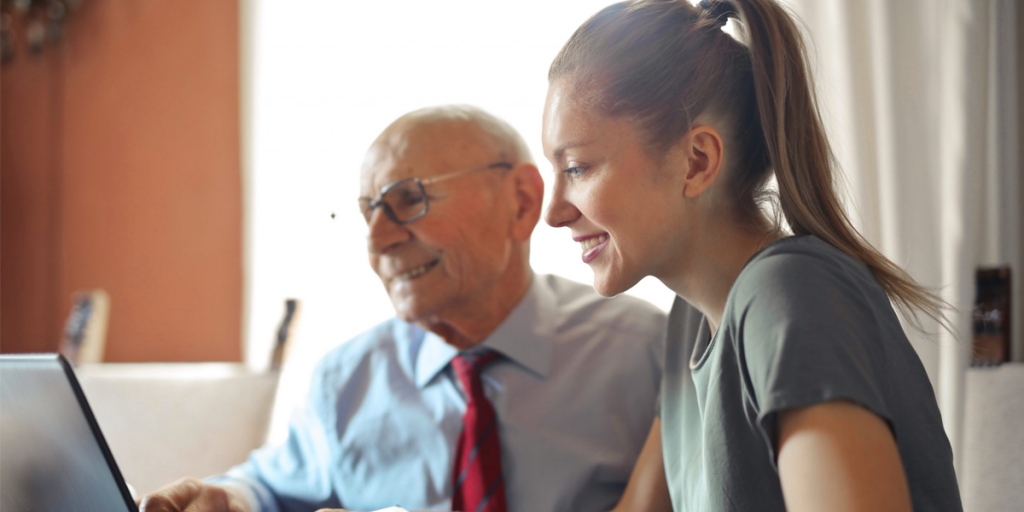 Please note that although we strive to protect and secure our online communications, and use the security measures detailed in our Privacy Policy to protect your information, no data transmitted over the Internet can be guaranteed to be completely secure and no security measures are perfect or impenetrable. If you would like to transmit sensitive information to us, please contact us, without including the sensitive information, to arrange a more secure means of communication. By submitting this form you consent to receive text messages from CVI at the number provided. Msg & data rates may apply. Msg frequency varies. Unsubscribe at any time by replying STOP.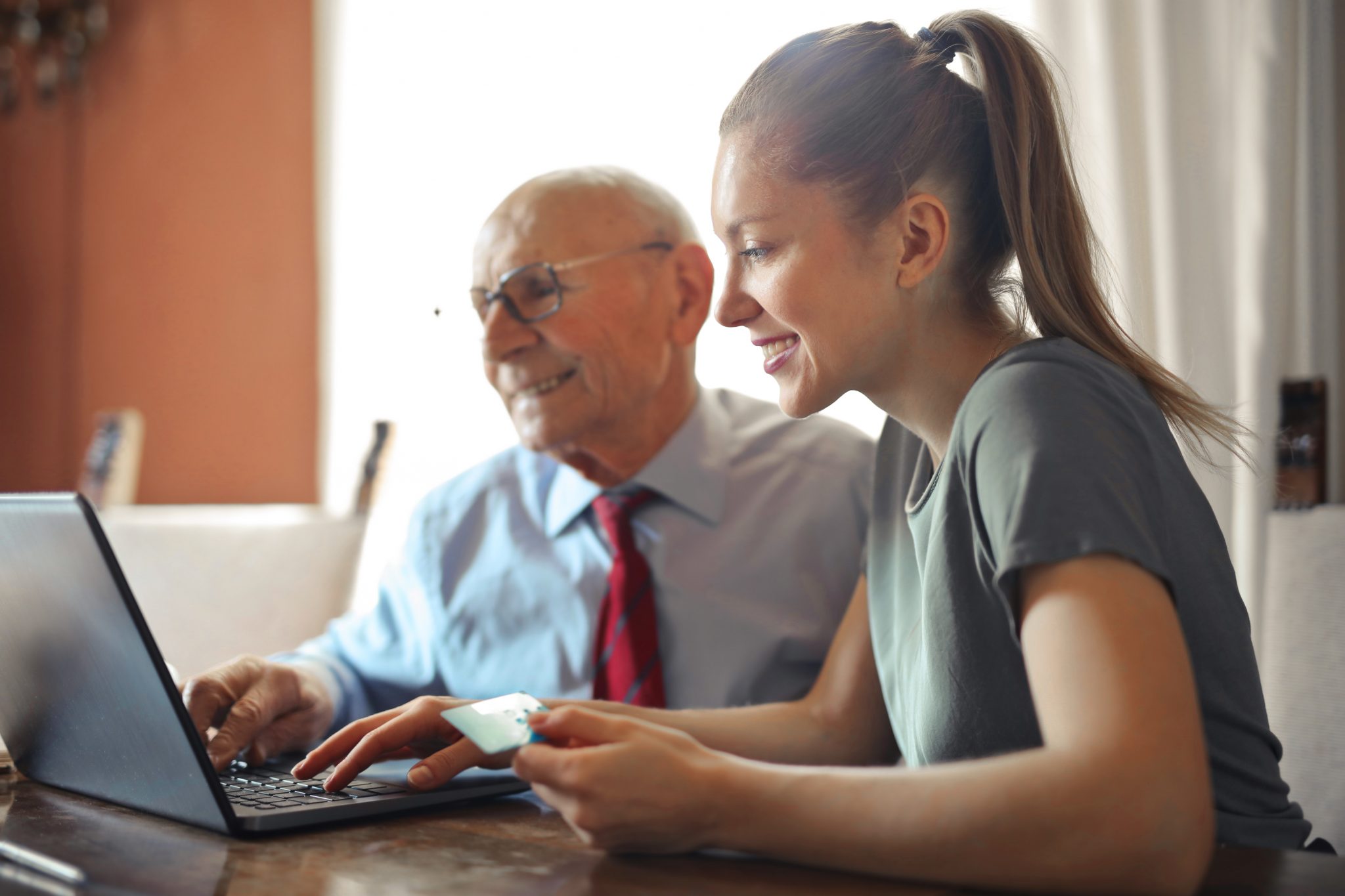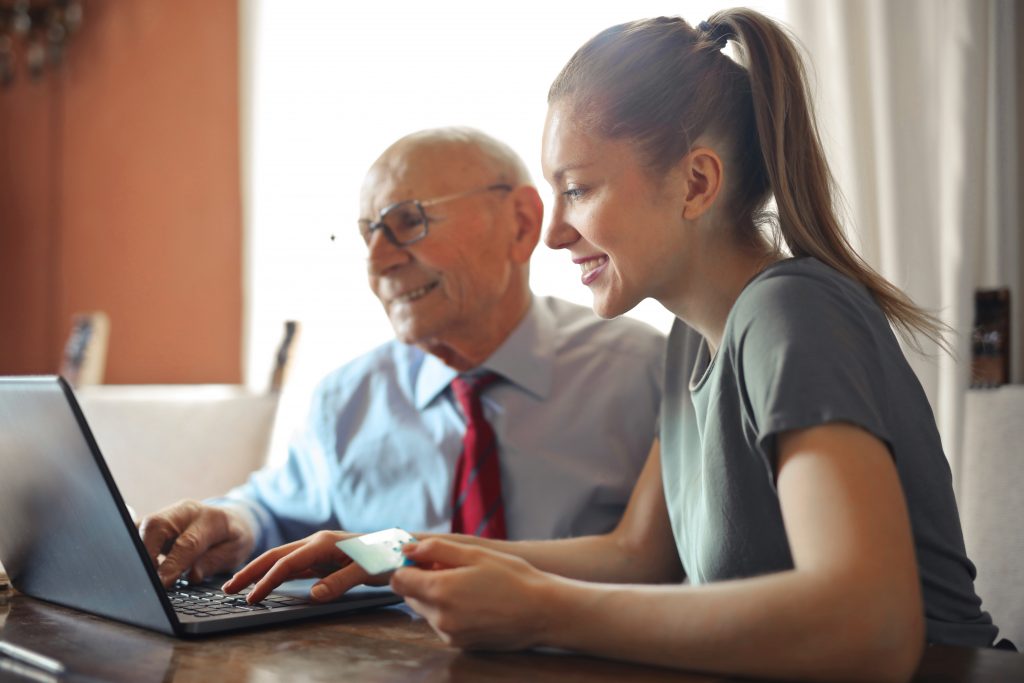 Please note that although we strive to protect and secure our online communications, and use the security measures detailed in our Privacy Policy to protect your information, no data transmitted over the Internet can be guaranteed to be completely secure and no security measures are perfect or impenetrable. If you would like to transmit sensitive information to us, please contact us, without including the sensitive information, to arrange a more secure means of communication.